Why Generating Traffic In Your Internet Marketing Business Isn't The Real Problem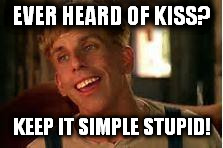 There seems to be a NEVER ending ongoing mass of HYPE and confusion when
it comes to generating (or driving) traffic, especially in the Internet Marketing World.
Is it all just a myth so the GURU'S can SELL you their latest traffic generation courses
on "How To Get Penny Clicks On Facebook" for example?
Or, so they can get you to invest into one of their latest programs that promise
you the earth but then under deliver?
Well, luckily for you there are BIG changes occurring that YOU can take advantage of
right now!
YES, BIG changes are occurring in the I.M. world it seems.
"Say what"?
Things are actually getting simpler as it goes, but why is that so if BIG changes
are occurring?
I mean when something BIG happens, that usually means BIG confusion right.
WRONG!
What the heck am I talking about here exactly?
"SALES Funnels".
They are and have been MASSIVELY IMPORTANT
for me and my business growth over the past few
years.
And sales funnels can be the difference between YOU
making $100 per month, to making $3,000, $5,000,
$10,000 all the way up to $20,000+ per month.
Is it really that much of a difference?
YES and here's why:
Once you get to the SCALING stage of your business
you can literally build your lists for NOTHING once you
know that you can be in profit using paid traffic.
So then there's nothing stopping you from building
massive buyers lists and scaling up your numbers.
It becomes (your funnel) a self sustaining sales machine.
But it gets even better.
Don't believe that you have to have a TON of up-sells,
down-sells, cross-sells, seminars, webinars and all
that over hyped stuff.
Oh, please ZZZzzzzzzzzzzzzzzzzz.
You can start with a simple funnel just to start you off
on your journey.
Funnels that are:
1. Fun and easy to set up
2. Easy to track and maintain
3. More profitable with much less RISK involved
But hey listen, if you already have a funnel that is quite
complex but is WORKING FOR YOU, then that's fine of
course.
Just keep allowing that to make money for you and build
your lists on semi auto.
But if you've only just subscribed to my list and you're
new to this then I highly recommend you start out with:
The ONE PAGE funnel system.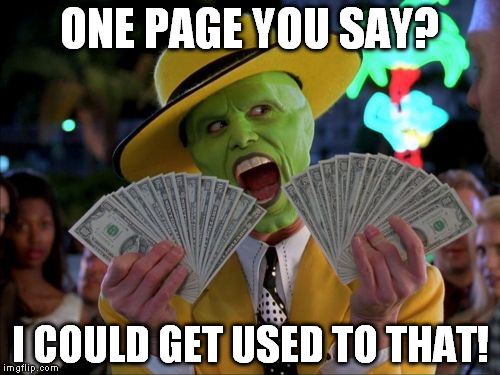 Yes, it's okay to start out with this model.
I see some of BIG guns in the industry using these simple
models today.
Because think about it.
What's the point in building a HUGELY COMPLEX business
funnel from start to finish if you don't know whether it is
going to put you in profit or not.
It makes far more sense to start out with the one page
funnel system and build it up from there.
You only need one main selling page.
This FREES you up to drill down into finding your perfect
customer, whilst focusing on driving traffic into your business
and building your lists.
This is what I've been doing for months.
I've kept my more complex funnels that are already working.
But I've also adopted this simple system into my business
and it's been working very well for me.
So for today, I would like you to sit down and really think
about this.
Take all this information in.
Really allow this to re-focus your mind and CLEAR 99.9999%
of the BUL****T that's been clogging up in there.
Your brand new simplified funnel could be as simple as:
1. Squeeze page (highly targeted to main offer)
2. Front end offer (money page)
3. Thank you page
4. Follow up email series (7, 14, 21, 30 days)
Now it's time to drive (Quality Targeted) traffic and watch
for patterns and conversions.
The key is to make things as simple as possible so they
are easy to maintain.
Just get rid of as many obstacles as you can that aren't
really making you any real profits in your business.
More Tips & Tricks For Squeezing EXTRA Profits From Your Traffic Generation Using Simple Sales Funnels
Covering Your Up-Sell (Or The MONEY MAKER
If you can make a profit for every front end visitor that sees your paid offer as soon as they enter your list is of course a very NICE BONUS!
But it's best that you don't get too upset if this doesn't happen the first time you buy a 100 click Solo Ad to your new offer.
But BREAKING EVEN is GREAT of course as this means that YOU have now covered the cost of what you paid for the Solo Ad!
So for any form of PAID traffic that you can at least cover the cost from puts you in a very commanding position indeed.
After all the whole point of creating a sales funnel in the first place is to allow you make recommendations to your lists and make cash on demand every time you send out an email.
TOP TIP: Your results will be far better if you make your squeeze page as closely related to your PAID offer (Up-Sell) as you possibly can.
So for example if you're new subscriber has just opted into your list to receive FREE information on how to rank YouTube videos on the 1st pages of Google FAST then wouldn't you think that they may be interested in a paid offer like some form of software that automates 90% of the ranking process for them?
Bit of a "NO BRAINER" I agree!
But you'll be amazed at how many want to be list builders do EXACTLY the opposite of what I've just told you and wonder why they don't see any results from the Solo Ads that they purchase.
PLEASE NOTE: If you really take your time and aim to get your first funnel set up correctly the way that I've just explained you'll save yourself a whole heap of frustration and heartache and you'll be well above 90% of those who don't even bother to do the most basic of selecting and tracking their funnels correctly.
If you are in the I.M./M.M.O niche then it's also important to note that you should look at offering an Up-Sell to your NEW SUBSCRIBERS that is priced between $7 – $17.
Depending on what the offer is of course; for all I know you may have an offer lined up that offers one on one coaching calls for every buyer that pays for your recommended offer you present to them.
But $7 – $17 is always a good guideline to start off with.
You need to be aware that you can always SELL HIGHER PRICED OFFERS to your subscribers further down the line in your funnel as they receive your A.R. sequence messages or receive any "Broadcast" messages you send too.
Right so your new chosen "Up-Sell" is going to be the first port of call for your new leads as soon as they have opted into your email list so this NEEDS to be pretty GOOD HERE GUYS!
Again you could either create the product yourself, get PLR for this, hire someone to create your up-sell for you or piggy back off someone else's hard work of TESTING, copywriting and creating a great looking product offer that you can easily PROMOTE AS AN AFFILIATE.
Again if you choose your paid offer first you'll find it is 10 TIMES easier to then follow that trend by creating a FREE gift that is closely related to that up-sell and take things from there.
I do recommend you either create something of quality yourself or choose a product that hasn't been hammered to death by every man and his dog!
Remember that the MORE UNIQUE and related your up-sell is the better it will sell once you start driving new leads into your funnel.
As soon as you have created your first product you'll soon see how lucrative it can be and quite easy too.
Affiliates will jump on board with you too and send you their hard fought buyers and you can then reap the rewards of taking just a little time out into creating your own unique product within the marketplace.
And probably a slight downside to offering an affiliate product as your up-sell would be that you don't have FULL CONTROL over it.
You may see a flaw in the product owner's sales copy that YOU could easily correct yourself if of course you were the owner of that product and if you knew that this could be rectified this would OBVIOUSLY INCREASE YOUR CONVERSIONS but you wouldn't be able to do anything about it.
So whether you are going to promote an affiliate product or use your own; JV Zoo & Warrior Plus can be great for both options you may wish to consider.
They both offer countless affiliate products you can sell well within the $7 – $17 price range and both allow affiliates to use FUNNELS too that have both Up-Sells, Down-Sells & go into DEEP higher priced back end product funnels too.
Also if you do wish to promote your own product both of these sites allow you to instantly take payments via Paypal (amongst others) and instantly add your NEW BUYERS onto a buyers email list that allow your new customers to INSTANTLY DOWNLOAD their paid products too.
Making your whole funnel run smoothly and on virtually complete AUTO PILOT!
And remember:
"A job can earn you a living, whilst PROFITS can earn
you a fortune"!
Stay tuned,
Gavin Birchall
GO Here: http://app.lead-swaps.com/v.php?p=z7f32 – to get my FREE Solo Ad case study list that sent me 1,000+  subscribers, 59 BUYERS and made me $928.89 in just days of sending out my ads.